Meet Luke

Luke (above) is a Huron at Western student in Management and Organizational Studies
Choosing to do an internship was not an easy decision. I was back and forth on thinking if I should take this opportunity or finish my degree with the majority of my class. What made me join the internship program was hearing the benefit that people said came from internships and co-ops. They told me that this is where you can learn knowledge that is not possible to learn in a classroom, and how to take your knowledge you have learned from school and put it into action. What I have seen over my internship that they couldn't have been more right.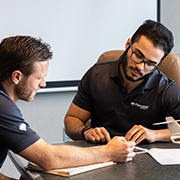 I chose to work at Diamond Aircraft Industries as the operations intern because of the amazing manufacturing company that it is, and the work that the job description entailed. One of the main projects that I have been given is to continue running and finding ways to improve the employee suggestion program. Over my time at Diamond I have had to find solutions for over 50 employee suggestions. What this has involved is talking with the different stakeholders (engineering, managers, quality control, etc.) and evaluating if the suggestion is valid and if it is possible to implement. Some of the suggestions are as big as changing the functionality of a part on the plane which can take months to solve with many parties involved, and some are as small as we could use a second scale to decrease time wasted. Being the facilitator of these suggestions has grown my ability to communicate as I have had to deal with individuals from different stages of life and educational background, and it has greatly increased my organizational skills and time management as I must ensure to follow up continually with suggestions until they are solved.
Take your knowledge you have learned in school and put it into action.
One of the greatest things I have learned thus far is to be confident in myself. Coming into this internship I only had six years of restaurant experience. With my background, I didn't feel ready or qualified to be in this position. My boss taught me early on that I need to be confident in my ability. Once I was, it changed the way I worked. My work was being completed at a much quicker rate as I was not doubting myself and it changed the way I presented myself. I talked with much more confidence which allowed for my voice to be respected and valued by my fellow team members.
A benefit this internship will bring to my professional career is that I have 16 months of experience coming out of university. This will greatly change the way future employers look at my resume and evaluate me for the job. It gives me a leg up as I can bring in my prior knowledge that I have learned at Diamond and apply it to other businesses. I would recommend for every student to participate in an internship as it has taught me so many valuable lessons that I will be able to bring into my future careers.
Luke is a Huron at Western student who enrolled in the 8-16 month Management and Organizational Studies internship program in the 3rd Year of his studies. To learn more about this program, please see https://huronatwestern.ca/career-development/internships/mos-internship/.