WIL Reflections
Discover what made Samantha, Tim, Abbie, Ashley, Emily get involved in Work Integrated Learning. Explore the benefits of putting your classroom skills and knowledge into practice in the working world.
Meet Samantha

After completing three years of undergraduate studies in Health Science at Western University I learned about the opportunity to apply for a practicum in my fourth year. The goal of a practicum is to enhance your learning and gain practical skills while working with a community partner. I was very excited by the opportunity to learn outside the classroom while still completing my other courses and finishing my degree. I applied in the hopes that this could possibly lead me to a future career or a new area of interest to continue my studies in.
Having a considerable interest in the public health sector and a desire to work in a field that does not fully require me to sit at a desk, getting an interview with Middlesex-London EMS was extremely exciting. I joined as a student assistant in their education sector to help with research, data collection, and develop creative ways to implement education into training.
This experience was very unique in that they were able to mold the placement to target my interests within the field of paramedicine. I performed clinical skills that I had only seen in a lecture which I would not otherwise have had the opportunity to do in my undergrad. As well, I learned the art of troubleshooting and adapted to working in a professional environment both on the trucks and in the office. Lastly, I contributed to a research project which will benefit the London community. Paramedicine is not something that is regularly taught in a university setting. We generally learn about what happens after or during a hospital experience, so this change in perspective completed my university education.
...this change in perspective completed my university education.
At the beginning of this journey, I would not have thought it possible to learn as much as I did in a single year. For anyone considering a career in any field under the Health Science umbrella, I would definitely recommend taking time away from the classroom to gain some hands-on experience. I cannot promise it will be as exciting as riding in the back of an ambulance, but I can promise you will gain invaluable knowledge. I will miss all of the great people I met at Middlesex-London EMS, but I'm looking forward to graduating and applying my newly gained skills to the next phase of my career.
Question Period
Samantha is a 4th Year Honors Specialization Health Science, BScH 2019 Candidate

Meet Tim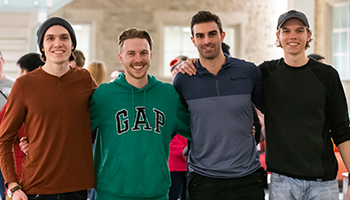 I knew that I wanted to complete an internship during my first year, when an ambassador from the internship program visited one of my chemistry classes. After hearing about the paid work-term, as well as how the work experience would set me apart from my peers after school, I knew it was an opportunity I couldn't pass up. Now that I am nearing the end of my time at Western, I can confirm that the internship was a highlight of my degree (BSc, honors specialization in chemistry).
My internship was located in Burlington, ON, where I was working as a water-quality analyst at Environment and Climate Change Canada (ECCC). This was a lab-based job where I utilized many skills that I picked up in different chemistry courses. Due to the nature of my job, I got very familiar with dilutions, reagent preparation, and got more practice working with analytical instruments. Although I became familiar working in a lab and with performing different analyses, I developed some other skills as well. Completing an internship gave me knowledge about the job search, taught me how to build resumes and write cover letters, increased my networking abilities, and gave me the opportunity to try out a possible profession. These skills are applicable to a wide variety of careers – not just a science related one.
Working at ECCC taught me many things and gave another dimension to my education here at Western. Before the internship, there were many aspects of a career that I did not consider. For example: location, coworkers, workplace culture, opportunity for promotion, bosses, benefits, and time-off are all factors of a career that are (in my opinion) as important as salary. Completing an internship gave me the chance to try a career option and to reflect on the things I did and did not like about the job. This was an extremely valuable process that I would not have gone through had I not completed the internship program.
Doing an internship is something that I would recommend to anyone. Students can expect a supportive work environment where they are given a chance to gain hands-on experience with working professionals. I have found employers to be friendly, helpful, and eager to teach those who are interested. I think students should expect a busy but fun-filled work term where they will gain countless real-world skills. It is exciting to have a steady income and to live in the working-world.
Completing an internship gave me the chance to try a career option and to reflect on the things I did and did not like about the job.
In summary, the internship program was an amazing experience and is something that I would definitely do again. The student receives paid, hands-on work experience from professionals in their field, and they get to try out a new type of job. I wish the best of luck to the future interns – enjoy your time working!
Meet Abbie, Ashley, and Emily
Meet Abbie, Ashley, and Emily, Western Science students who are taking command of their future! We sat down with the dynamic trio at the Science Internship mixer to get a better sense of what made them choose to participate in internship programming through Western.
For more information on Faculty of Science Programming, discover your options here.