Meet Alison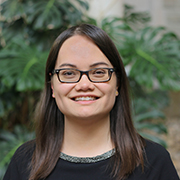 The first time I took a Community Engaged Learning (CEL) course, I honestly thought it was a way for me to get my feet wet and prepare me for reality after university. Little did I know, taking Gerontology in Practice with Dr. Zecevic, I would actually get pulled head first into one of the best learning experiences of my life.
In this CEL course, I helped bring Cycling Without Age (CWA), an international organization founded in Denmark, to London. CWA was created to get older adults back on bicycles via trishaws, three-wheeled bikes with a two-person seat at the front for passengers. Working with other students and community partners, one of the first things we did was gauge the interest of the organization with older adults at the Kiwanis Seniors' Community Centre. I also had the opportunity to help create a resource manual to guide future leaders implementing CWA's program. Additionally, my group successfully launched a pilot in London. I witnessed firsthand the formation of intergenerational connections as I piloted a trishaw. This, to me, was the highlight of the course.
Little did I know I would get pulled head first into one of the best learning experiences of my life.
Although it was challenging to transition from lecture-based learning to hands-on community-based projects, my previous Health Sciences courses laid a knowledgeable foundation for me to successfully meet the community's needs and grow through experiential learning. My CEL experience was a rewarding way for me to get involved with the community, learn new skills, and put what I learned into practice. In retrospect, I have discovered that getting pulled head first into a new opportunity is one of the best ways to learn.
 Alison's experience was brought to you by Health Sciences 4711A: Gerontology in Practice.